Tweet
When it comes to choosing the right carpet from the right retailer with the right installation, it can be like traversing a jungle. One person's Chevy is another's Cadillac. This place talks about this warranty, while another warranty is stressed someplace else. Here they're all about this fiber, while the other guys are all about some other fiber.
How does one compare true apples to apples to know that they're getting the best carpet for their money for their home?
So I thought that a map – per say – would make a useful post. Please let me know what you think of it!
First of all, I always suggest asking the following questions:
1: What is the stain warranty?
Warranties are a great way to gauge the quality of a carpet, but the small script makes it difficult to know if one stain warranty is as good, better, or worse than another.
Most stain warranties cover common food and beverage (this does not include coffee, red wine, mustard, and similar items that I would consider common).
Some warranties are good enough to cover all food and beverage, but nothing else.
The best stain warranty, of course, is a 100% stain proof warranty (which is included on all of Mercers' carpets) where literally every thing imaginable is covered as long as the carpet is properly maintained.
2: What is the texture retention warranty?
Way back in the day, the wear warranty was the big one everyone talked about regarding durability. With today's technological advances, it is pretty much a mute point. All that means is that you won't walk away 10% of the fiber in the time amount stated by the warranty. If this ever were to happen, that is a VERY serious manufacturing defect.
This is wear
The texture retention warranty, however, is a great way to gauge the durability of any particular carpet. This is the anti-crushing and matting warranty. The technical side if it is that the yarn twists won't loosen over time showing wear and traffic patterns by flattening.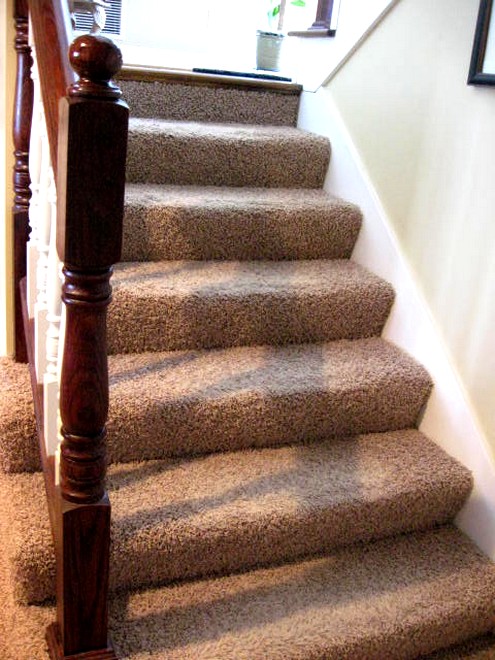 This is matting and crushing and applies to texture retention
3: What kind of fiber is the carpet made with?
Of course wool is the best fiber (especially Grade 1 or New Zealand Wool) but you also have some very high quality synthetic fibers. While the basic categories of synthetic fibers (such as nylon, olefin, and polyester) are pretty much equal, there are MANY grades of fibers within each category.
One quick and easy way to tell if a fiber is of good quality is the hand test (or even better, the barefoot test). If the carpet is silky or soft, that means that it's made from extremely fine fibers and is highly durable because of a huge reduction in defects. It's like the difference between silky hair and frizzy hair (I myself am guilty of the latter).
Note
: the style of a carpet (plush, loop, or a mixture) doesn't really effect durability any more. But one style could be better than another in certain areas of a home.
4: What kind of backing does the carpet have?
Carpet wears out from the top down and the bottom up. A high quality fiber on a low quality backing doesn't do you any good. Just like a high quality carpet installed poorly doesn't perform as well as it could.
Most carpets have a backing that is glued on and looks like lots of little squares on the back of the sample. For this style, the smaller the square the better. Also, if this type of backing has a soft cloth covering, that's generally a sign of a higher quality backing.
There is also such thing as a woven backing. This is a highly traditional backing that is still in use today because of its high durability. To look for this kind of backing, take a look at the back of the sample and look to see if you can see the color(s) of the fibers used on the front. This kind of backing should feel a little knobbly to the touch.
5: What kind of pad is included in the quoted price?
A high quality pad acts like a shock absorber for the carpet, extending its life. I personally wouldn't use anything less than a 6lb virgin rebond pad (virgin means that it has never seen a floor before, the recycled pad looses its resiliency faster).
Please, never ever use a foam pad as they loose their resiliency very quickly (hence why Mercers doesn't sell it, ever).
Rubber pads are a great option as they add a huge sense of luxury without too much height. Though make sure that they emit very low (or no) VOCs and are made to meet USA standards.
Note
: the poundage of a pad (6lb, 8lb, 9lb, 20lb, etc) refers to how much pressure is needed to condense 1 cubic foot of the material.
Some added benefits that some pads have are antimicrobial treatments and spill blocks, these are great ways to help ensure the health of your home!
6: How is the carpet to be installed and who is installing it?
9.9 times out of 10, carpet is installed using tack-strips along the walls and stretched into place on top of the padding. This is what I'll recommend
every
time for inside the home.
As for installers, I'd make sure they're bonded, insured, and master certified to do the job right. Most retailers subcontract the work out (Mercers has their own full time employees who receive only the best training). Always ask where the installers are employed and check into that company's reputation in addition to the retailer's.
Be sure to ask about the installation guarantee. Maryland law requires a minimum of a one year installation warranty. Some retailers in Maryland provide 2 additional years on top of that. Mercers guarantees their installation for the life of the floor.
7: If something goes wrong, who do I contact regarding warranty claims?
We all hope that you'll never need to use this information. But, you do want to make sure that the retailer (or better yet your own personal flooring consultant) acts as a negotiator for you. The retailer can get farther easier than you can because they can always threaten not to sell the product or service.
8: Is a free in-home measure and inspection provided?
The answer should always be "absolutely!" as carpet or any other type of flooring can NOT be installed correctly without an inspection of the subfloor and the exact dimensions of the space. Also, this is when the flooring design consultant can look for lifestyle clues, design preferences, and other useful tidbits of information to help them help you choose the best carpet for your home.
9: What does the quoted price include?
No one likes hidden fees. Ask if it includes transitions at door ways, the installation, the padding, the carpet, movement of furniture, and any necessary sub floor prep.
10: What kind of training does the flooring consultants receive?
The flooring consultants are supposed to be the experts. It's their jobs to make sure you get the absolute best floor to meet the demands of your lifestyle and your style preferences. And they'll need to be trained in home design in addition to the technicalities of installation and the product itself.
I myself, through Mercers, have received over 500 hours of training regarding all of our products, their installation, how they impact the feel of a space regarding performance and design, and how to get the information I need from you and the in-home measure and inspection to make sure I can point you in the right direction.
Mercers is proud of the fact that their team receives the absolute best training in the industry and is constantly looking for ways to raise the bar.
So that is the map I came up with. What do you think? Did I skim over something you'd like to learn more about? Or did I skip something of interest all together? (Yes, I'm shamelessly fishing for comments! lol)